14th Annual Food and Wine Tasting Fundraiser
Friday, November 3, 2023 6:00 – 11:00 P.M.
Sponsored by: US Bank, Heimburger Construction, Great Mines Health Center, First State Community Bank and Ozarks Federal Savings & Loan Association.
An evening filled with Wine, Food, Fun and Music! Featuring local area wineries, restaurants and catering companies, celebrating the holidays and the HOMES made possible through the efforts of Habitat for Humanity of St. Francois County.
Acoustic Entertainment provided by Vintage Culture of The Mineral Area Fine Arts Academy with special guests and former Habitat Homeowners Tyler Smith and Paula Franks-Boyer and musicians Shannon Cox & Eric Thompson So, get ready to raise the roof and dance the night away!
Tickets are $30 in advance or $40 at the door. Your admission includes souvenir wine tasting glass, ten 1-ounce wine tastings, hors d'oeuvres, and access to the silent auction, photo booth, dessert auction and wine pull. *
Wine will be available for purchase by the bottle or the case. Stock up for holiday parties or gifts!
The event is held at The White Magnolia Reception Hall under Keenly Bridal at 210 East Woodlawn Drive in Leadington.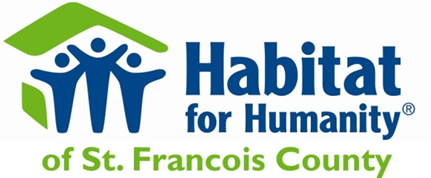 Habitat for Humanity of St. Francois County, Inc. would like to THANK each and every one of you who play a part in our mission, and we look forward to your continued support into the future. We could not do the work that we do without the support of our Volunteers, Donors and other Supporters!
Habitat for Humanity of St. Francois County, Inc. (HFH-SFC) is a non-profit, ecumenical, Christian-based house building organization dedicated to eliminating substandard housing within St. Francois County. We welcome all people to join us as we build simple, decent, affordable houses in partnership with those who lack adequate shelter. Our local Habitat affiliate, along with many others around the world, coordinate house building and select partner families. Habitat houses are purchased by the homeowner families. Three factors make the houses affordable to low-income people worldwide.
Homeowners and volunteers build the houses under trained supervision.
Individuals, corporations, faith groups and others provide financial support.
Currently building our 32nd and 33rd homes in St. Francois County!
Thank you for helping us continue this great cause and realize our mission!
Wine List
Stock up for Christmas or buy gifts today! All available for purchase from the Cashier!
St. James Winery
#11 38 Degrees – $ 17
This Dry white blend has aromas of honeyed peach and jasmine which represent the vineyards in which the wine is grown and emanate from the fruit just before harvest. Enjoy supple tannins and spiced tangerine on the palate.
#12 Project 1970 – $ 19
This dry red blend has a distinctive aroma of blackberry and dark cherry, held together with hints of oak and toast. Gentle tannins give way to the elegant vanilla, plum, cherry, and chocolate. The warm dark fruits linger with a warm rich finish.
#13 Vignoles – $ 17
Floral and fruity aromas with flavors of marmalade and pineapple with a crisp, clean finish. A lively, easy-drinking, semi-dry white wine.
#14 Spiced Apple – $ 15
Served chilled or warm, our Spiced Apple sweet wine is perfect served at bonfires, fall festivities and tailgates. Made with real apples, this burst of autumn flavors is a seasonal selection available for a limited time only!
#15 Velvet Rose – $ 10
This is a pink to pale, ruby-colored wine that exudes aromas of candied lemon and floral jasmine. On the palate, it offers a soft and engaging sweetness. The flavors experienced are reminiscent of red candied fruit and red apple, leading to a long and satisfyingly sweet finish.
#16 Cranberry – $ 15
A seasonal best seller, our Cranberry wine is sweet and tart with bright, festive cranberry colors, aromas and flavors.
#17 Cranberry Bubbly – $ 17
Sweet and tart with bright, festive cranberry colors, aromas and flavors, with an added sparkle. St. James Winery's Sparkling Cranberry Wine offers refreshing, fresh cranberry acidity with a nice, long cranberry finish. The perfect sparkling wine for any festive occasion or holiday party!
Chaumette Vineyards & Winery
#21 Unoaked Chardonel – $ 30
Our Chardonel is a white wine fermented in stainless steel, has fruit forward aromas of lemon, green apple, and a touch of honey dew melon. This delicate and lighter style wine is perfect for a warm summer day or pairing with cheese or fish on a cool evening.
#22 Norton (2022) – $ 30
Our 2022 Norton is highlighted with red and black fruits, this wine has flavors of spice, vanilla, chocolate yet is layered with flavors of ripe cherries, strawberries, and currants. Our wine finishes with a restrained oak character with some vanilla and coca for a balanced profile. Pairings include chicken, pork, beef, barbeque, wild game, sharp and nutty cheeses.
#23 Chambourcin – $ 30
This aromatic wine is berry-bright with flavors of dark cherries and strawberries. It is a smooth, medium bodied wine that has a lingering finish and a hint of warm spices. It pairs well with chocolate, mushrooms, burgers, pastas, and red meats.
Crown Valley Winery
#31 Blackberry Bling – $ 16
THE PERFECT MIX OF CROWN VALLEY'S BLACKBERRY & MOSCATO WINE NOW BOTTLED IN ONE! This light and fresh sparkling wine is made with blackberries to create a wonderful aroma with a fresh and fruity palate.
#32 Cabernet Sauvignon – $ 20
This Cabernet Sauvignon has aromas of ripe berries and chocolate with a hint of tobacco. A full-bodied wine with a lingering finish. Pairs perfectly with our Big Bison Meat Co. ribeye steak.
#33 Vignoles – $ 16
This Vignoles has a rich and fruity nose with hints of pineapple, peach and melon. The palate is rich and fruity with a clean, crisp finish. This wine pairs nicely with grilled chicken.
#34 Winding River White – $ 16
The nose is light and fragrant with hints of melon, white peach, citrus, and apricot.
#35 Rose – $ 16
This dry Rose' has hints of strawberry with a rose petal perfumed nose. It boasts flavors of red fruit, citrus and melon, followed by a soft and silky finish. Pair this wine with grilled or fresh fish and seafood.
#36 Fizzy Izzy Root Beer – $ 7
All-natural, caffeine free. Fizzy Izzy Root Beer is named after Crown Ridge Tiger Sanctuary's youngest Siberian tiger, Izzy. Our Fizzy Izzy Root Beer is a wonderful bubbly treat that is sure to quench your thirst. Crown Ridge Tiger Sanctuary is a non-profit rescue facility located in Ste. Genevieve, Missouri. A portion of the proceeds from this can go towards supporting the animals at the sanctuary, to find out more visit us at crownridgetigers.com.
Additional items added as they are made available by participating wineries.
Food Vendors
Get your fill from these wonderful participating food vendors! Please consider patronizing them through the year!
The Farmhouse Food Truck
The Rolling Dumplin Pot
Club House Events & Catering
Sweet Designs by SAV
The Joyful Treehouse Company
The Center Cut Culinary Butchery
Sugarfire Smoke House
The Wine Pull

Provided by Hearing Care Partners
Pick an ornament from our tree and win the matching bottle of wine!
$20 per Pull (wines vary in value from $8 to $40!)
Dessert Auction
Hosted by Glenda Straughn. Including delicious desserts provided by Annette Schnable, Laura Kirkley, Maude Kelly, Mary Forest and many more. Oh, you won't believe the deliciousness that will be available in this auction … Get ready to bid on your favorites!
Photo Booth
Provided by Totally Sound Entertainment – be sure to capture all the fun with your friends and family in photos from this outfitted photo booth!
…The Extras…
Purchase additional Tokens from the Cashier for $1 each
The following are 4 Tokens per serving:
Beer
Frozen Drinks – provided by The Margarita Man
Our Sponsors for the Event
Please consider doing business with these generous sponsors of tonight's event:
Dream Builder Platinum Sponsors
US Bank
Heimburger Construction
Roof Raiser Gold Sponsors
Great Mines Health Center
Wall Builder Silver Sponsors
First State Community Bank
Foundation Former Bronze Sponsors
Ozarks Federal Savings & Loan Association
Table Sponsors
Cape Electrical Supply
Laurie Sundhausen, CPA
FSCB Bonne Terre
FSCB Park Hills
US Bank
Shared Blessings
Gordon Bess Construction
Great Mines Health Center
Green Acres Residential Care
Barnhouse Supply
Ozarks Federal Savings & Loan Association
Maude & Jim Kelly
Edward M Pultz Attorney at Law
Parkland Health Center
Christopher Jordan
Christopher & Ellen Reyes
Boyer Funeral Homes
First State Financial Management-Neil Bales
Thrivent Financial -Janet Renshaw
*Admission to this event is restricted – must be 18 years old to enter and 21 years old to partake in alcoholic beverages.